Wearing your first pair of glasses
Finding out you now have to wear glasses can be a bit of a shock for some people, even if it's only occasionally, such as when reading or driving. It's understandable that there can be some confusion when it comes to wearing glasses for the first time, especially when you're thinking about how comfortable glasses will be, or whether or not your new glasses will suit you.
When you receive the all-important results of your eye test, it's best to settle your confusion as quickly as possible, so that you can embrace your new look and find the best frames for you. Why not use our handy guide for top tips on wearing glasses for the first time, to get the best start to this lifestyle adjustment.
Adjusting to new glasses symptoms 
Before we get into the nitty-gritty, there may be a few symptoms that come from your switch to glasses. These symptoms are always minor and are generally nothing to worry about – they're simply a sign that your eyes are adjusting. They usually come and go within 2-3 days. 
Here are some new glasses symptoms to keep an eye on (no pun intended):
Eye strain for the first few days

Tired eyes due to the adjustment period

Light dizziness that may come and go

Fleeting headaches 

Your depth perception may be unclear for the first few days
What to look for when searching for your first pair of glasses
There are four standard glasses features to consider before buying your first pair – lenses, feel, colour, and shape.
Know which lenses you need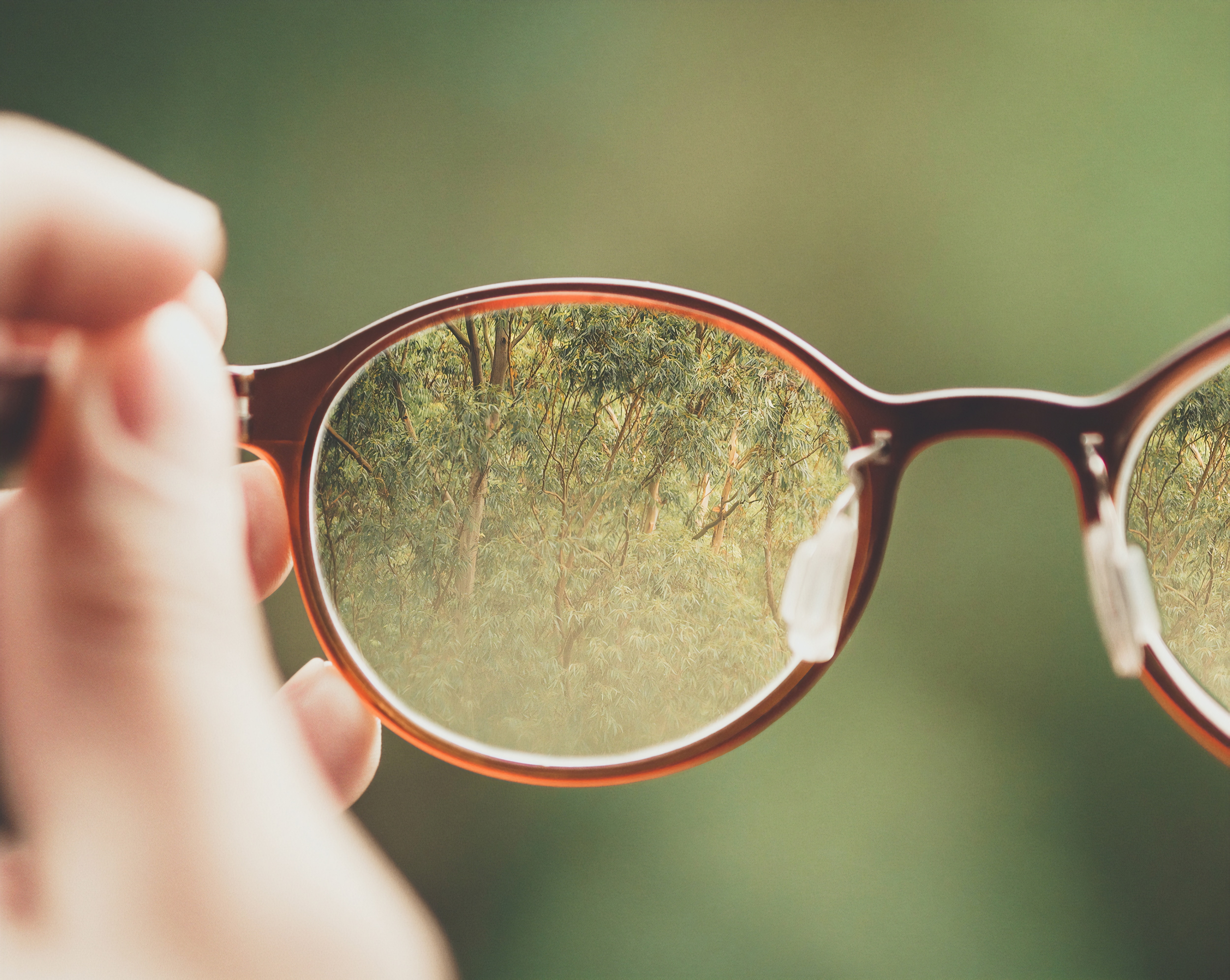 When you've been told you need glasses, your first worry will probably be how they look. But before you consider the style, your priority should be the lenses. After all, they will help you see better!
After the results of your eye test have come in, you will able to request a copy of your prescription (find out what your glasses prescription means). This will come especially in handy when buying glasses at a later date, or when choosing to buy your glasses from another supplier other than your opticians (such as Arlo Wolf, for example!).
Once you have your glasses, you can even take advantage of our glasses reglazing service which ensures tip-top condition for your lenses should they become scratched or damaged..
Browse our range of men's prescription glasses and women's prescription glasses
Find the best style of glasses for your face
One of the most common questions when it comes to choosing your first pair of glasses, is what glasses suit my face shape? Matching your glasses to your face shape will help to make sure you're investing in frames that will naturally suit you. Many first-time glasses wearers are surprised to find that the frames they thought would suit them don't, and others they would never consider are perfect for their face
Make sure to check out our complete face shape guide and find out which glasses will be most likely to suit you. Over time, you'll begin to know which style of frames work well with your face shape and style, but our face shapes guide is a great tool to help you at the beginning of your eyewear journey!
Our bestseller Brooklyn in Gold will suit most face shapes, why not order as part of our try before you buy offer?
Consider the feel of the glasses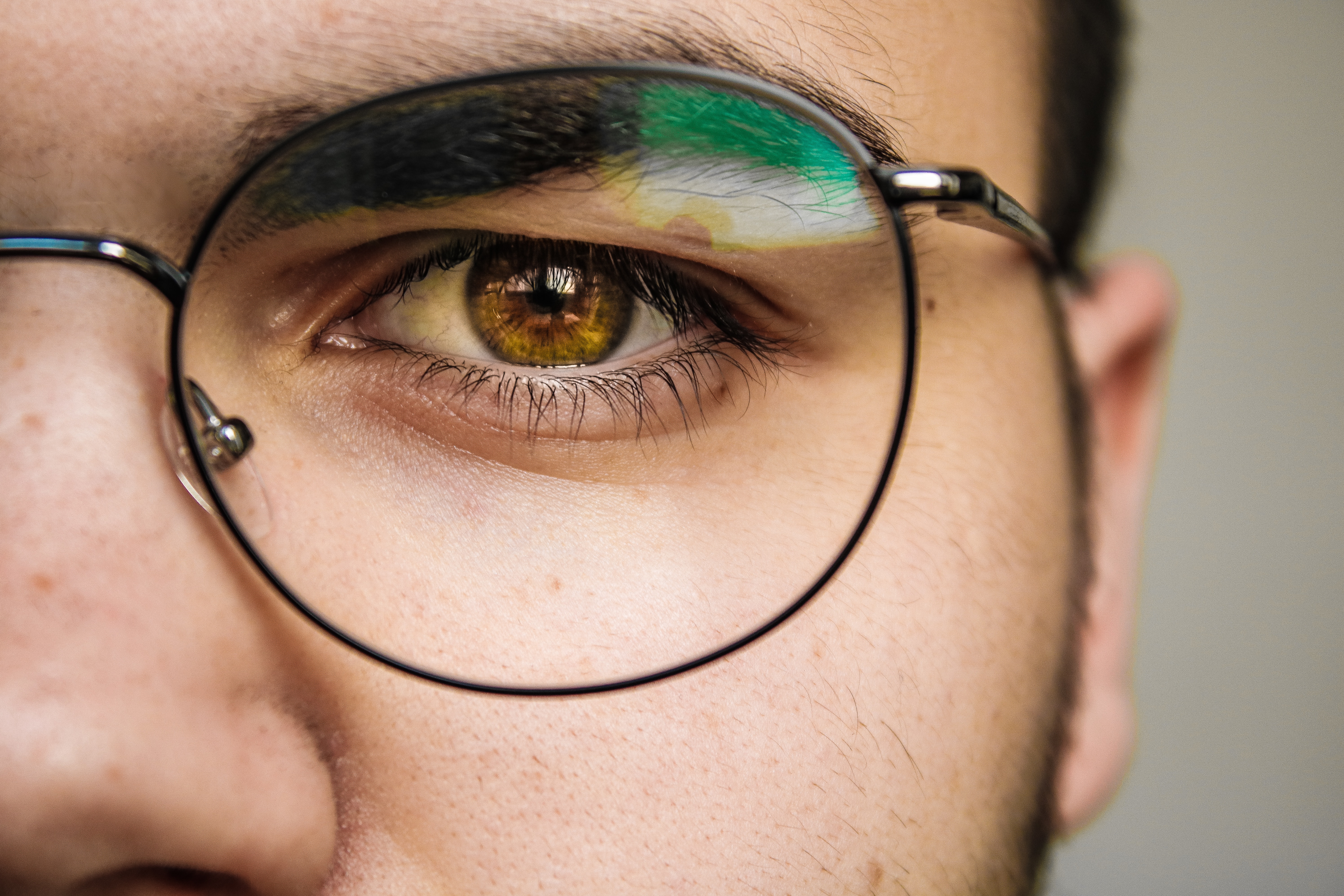 You'll be wearing your glasses for part of the day or consistently, so it's important that they are as comfortable as possible. If your glasses are uncomfortable, it will only make you worry about wearing them – some people even stop wearing their glasses all together as a result. Of course, there are ways to prevent your glasses from being an uncomfortable nuisance – all it takes is a little trial and error.
When it comes to trying on different frames, compare how each one feels and think about the amount of time which you will be wearing them for. It is key that your glasses feel comfortable and easy to wear.   
Here at Arlo Wolf, you can order up to 4 frames and try them on at home for a week, before deciding which frames you would like to buy. Our try before you buy service can help to prevent you from buying glasses that aren't suitable for you, making your first time wearing glasses as comfortable as possible.
Express yourself with your frame colour
When choosing the colour of your frames, the sheer variety can make the decision an overwhelming experience. Your favourite pair may come in hundreds of colours and finishes, which can leave you reeling at which one to choose.
Consider your skin tone when choosing your first pair of glasses, as well as the clothing you like to wear. Your new glasses should complement your overall style and appearance. In some cases, they could even add to it!
For example, if you work in a traditional office, then you may want to steer clear of bright and bold colours for your weekday glasses. For more laidback social events, you could easily opt for some quirky frames for a standout style. Thinking about how you typically express yourself on a day to day basis will help to narrow down your choices and speed up your decision-making process.
Have you seen our latest deals? There are massive savings to be had…
You might even find that your hair colour has a role to play in which glasses will suit your best. See our guides on recommended glasses for those with blonde hair, those with brown hair, those with red hair and those with grey hair, for some style inspiration.
Some of our most popular coloured frames include Sloane in Crystal Pink and Maya in Green so if you're looking for a pop of colour, these frames are a great choice for you. These are also available as part of our try before you buy service. Vintage more your style? Check out our top picks of vintage sunglasses and glasses to find the frames which are perfect for you.
Adjusting to your new glasses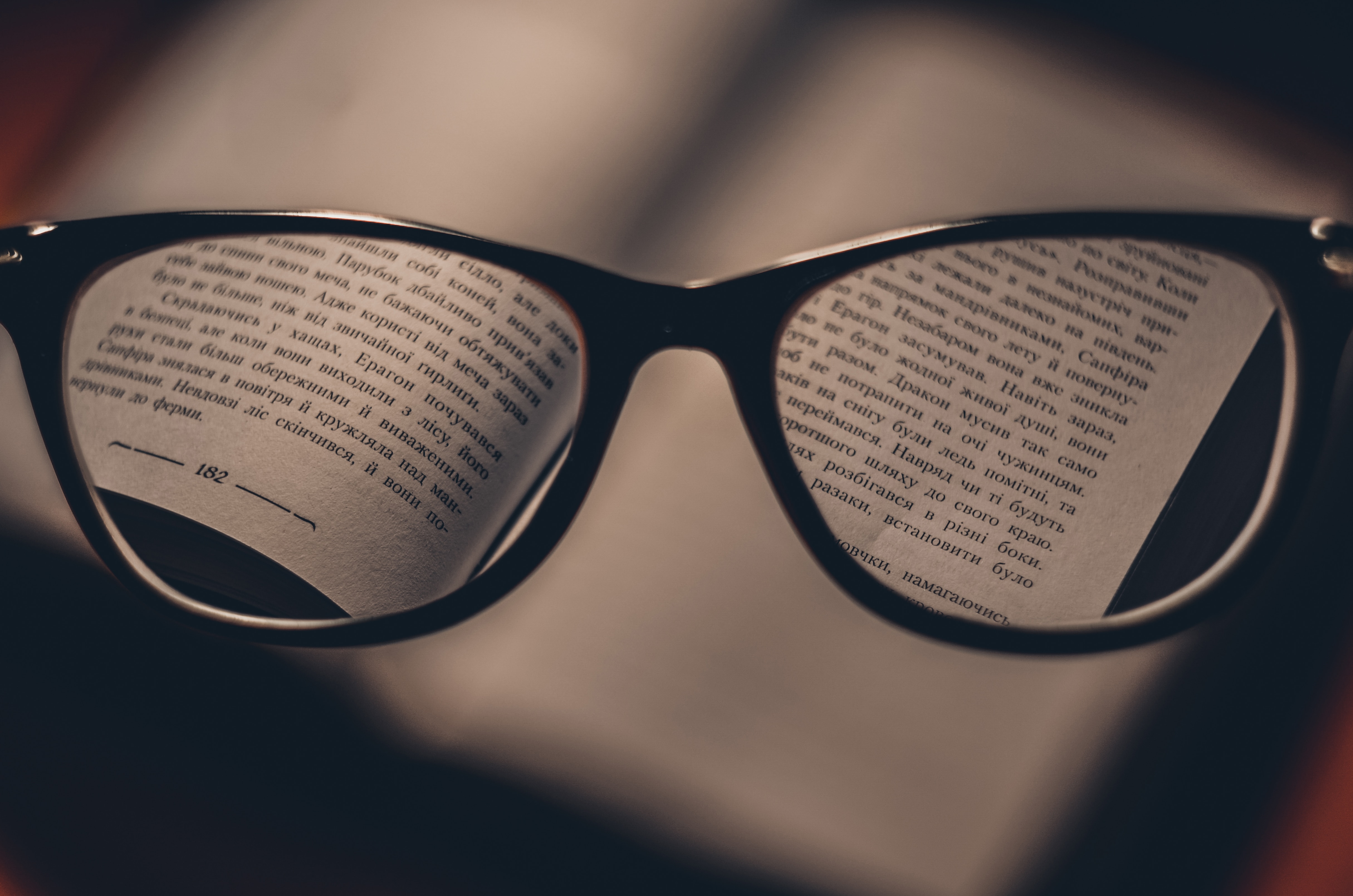 The first time you put on your new pair of glasses, you may experience some side effects while your eyes adjust to the prescription lenses. Although this is completely normal and nothing to worry about, it can cause a little discomfort and it is very common to feel slightly off-balance or dizzy Try not to let this put you off wearing glasses – stick with them and, as your eyes begin to adjust, these side effects will usually pass within a week or two.
If you're going to need to wear your glasses all day, it's best to try them for the first time early on it the morning. Not only will this help you to get used to putting them on as soon as you wake up, it'll also help to prevent dizzy spells from creeping up on you in the afternoon during the adjustment phase.
Top Tip: If you experience watery or itchy eyes, soreness, blurred vision or redness, take off your glasses and wait until these symptoms have either passed or calmed down before putting them back on. If your symptoms last for more than two or three weeks, then you should speak to your optician.
Tips for wearing glasses
Put your glasses on every day
Even if they are uncomfortable or you're not quite used to them yet, try to put them on for at least a short while every day. The stricter you are with yourself, the quicker you should adapt to them and be able to enjoy your new sight. If you're feeling dizzy, take a short break before putting them back on and going about your daily business. You should contact your optician if you're experiencing serious headaches or eye pain.
Clean your lenses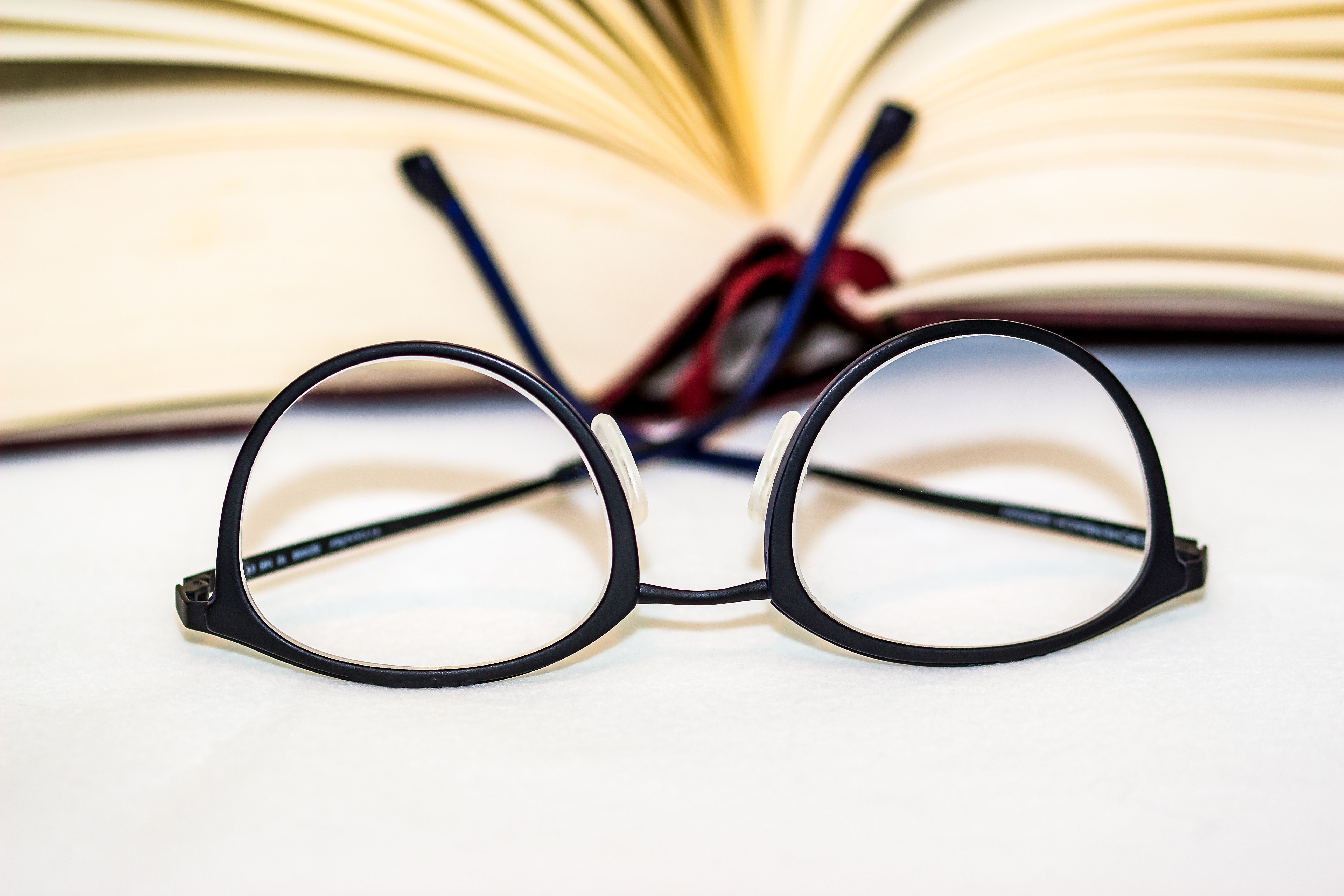 If you're wearing glasses for the first time then smudges can be not only distracting, but can make you feel a little dizzy due to the blurred vision. Regularly clean your lenses with a lens cleaning spray and scratch-proof lens cloth. When you buy your prescription glasses from Arlo Wolf, anti-glare and anti-scratch lenses are included as standard, and can be costly when purchasing from other retailers. Find out more about our range of lenses and how they can benefit your eyes.
Get into the habit of moving your eyes
Many first-time glasses wearers especially if they have bifocal or trifocal lenses tend to feel more comfortable moving their head rather than their eyes. Make a conscious effort to move your eyes rather than your head otherwise you may end up feeling dizzy or getting a headache. After a while of getting used to your glasses, you will naturally move back to moving your eyes rather than just your head.
Having picked out your perfect pair of glasses, the adjustment period will be over before you know it and you'll be able to enjoy all the beautiful sights with clearer vision. Feel free to browse our range of men's glasses and women's glasses as part of your search for your first pair of glasses. Try up to 4 frames for a week before you decide which one to buy.
Use our Try Before You Buy service to try up to four glasses from the comfort of your own home (without paying a penny!). 
Upgrade to blue light lenses if you have increased screen time
All of our stylish women's prescription glasses and men's prescription glasses can be upgraded to blue light lenses. These lenses can improve eye strain and headaches caused by blue light emitted from our screens. Blue light lenses are extremely beneficial for those working in the office and from home, but you should always try and take screen breaks if possible! Read more about the benefits of blue light lenses in our blog.
Regular eye tests
Once you've had an eye test to confirm your glasses prescription, it's important that you get check ups regularly to make sure nothing has changed. However, if your prescription does change, Arlo Wolf's glasses reglazing service can make all the necessary adjustments. 
Find this interesting?
In the meantime, be sure to take a look at our blog section. We're constantly creating new content that entertains and informs our readers, and you're bound to learn a thing or two about our products and glasses in general. 
For any queries about our products or services please email us at info@arlowolf.com and a member of our team will be happy to help. 
Here are some further guides you might like: