From the quirky ruin bars to the dreamy thermal baths, Budapest is certainly a city full of many wonders. Aside from its charming views and exquisite architecture, you'll be pleased to know the Hungarian capital also has a bustling fashion scene. 
You'll want to pay attention to what clothes are going in that suitcase when you're packing for your Hungarian city break. Need some inspiration on what to wear seasonally in Budapest? Have a read of our style guide. 
What to wear in Budapest in spring 
As the Budapest weather starts to warm up slightly in spring, you'll want to tone it down with the layers. However, considering the climate is still recovering from winter, don't cave into that summer feeling just yet! 
When it comes to venturing out into the city during springtime, don't forget to pack your comfy jumpers, baggy shirts and lightweight jackets. It may also be a good idea to take a raincoat or umbrella with you, as rain is usually in the forecast for this time of year. On the subject of footwear, it would be wise to wear leather boots or any footwear with flat soles, just so you can walk around the cobblestone streets with maximum comfort. 
Top travel tip: If you're travelling to Budapest in April, don't forget to take a trip to the city's Spring and Easter market. 
What to wear in Budapest in summer 
You'd be surprised to know that summertime in Budapest can welcome a fair share of thunderstorms, so be prepared with your raincoat or umbrella. However, as the second half of summer shines down on the city, the wet weather tends to lessen and temperatures do indeed soar. So, if you're travelling to the Hungarian capital from June to August, be sure to pack your sundresses, shorts, t-shirts, and prescription sunglasses. In other words, say hello to summer! 
What to wear in Budapest in autumn 
Temperature-wise, it's said that the first half of autumn is the best time to visit the Hungarian capital. During September and October, the city sees less rain and there's still that feeling of summer in the air. However, it's still best to pack those light jackets and cardigans, just in case. 
Once November arrives, the rainfall sadly returns and temperatures do see a significant drop. Nevertheless, this doesn't mean that you can't have a fun day out exploring the city. Just be sure to pack layers – think cosy scarves, comforting turtlenecks and protective raincoats. 
What to wear in Budapest in winter 
If a proper winter's retreat is what you're looking for, then Budapest is certainly the place to go to during the colder months. During the winter season, temperatures plummet and Budapest's cobblestone streets even welcome blankets of thick, white snow. 
When enjoying the city's winter wonderland scene, be sure to wear warm, longline jackets, as well as your protective scarves, gloves and hats. As the city's streets can be icy during this time of year, make sure to also sport sensible footwear. It wouldn't further hurt to pack a pair of shades to avoid the glare of the winter sun. 
Top travel tip: From November until the end of December, the streets of Budapest light up to welcome its world-renowned Christmas markets. Be sure to take a trip down the festive streets and indulge in those hot Hungarian drinks if you're visiting Budapest during Christmas.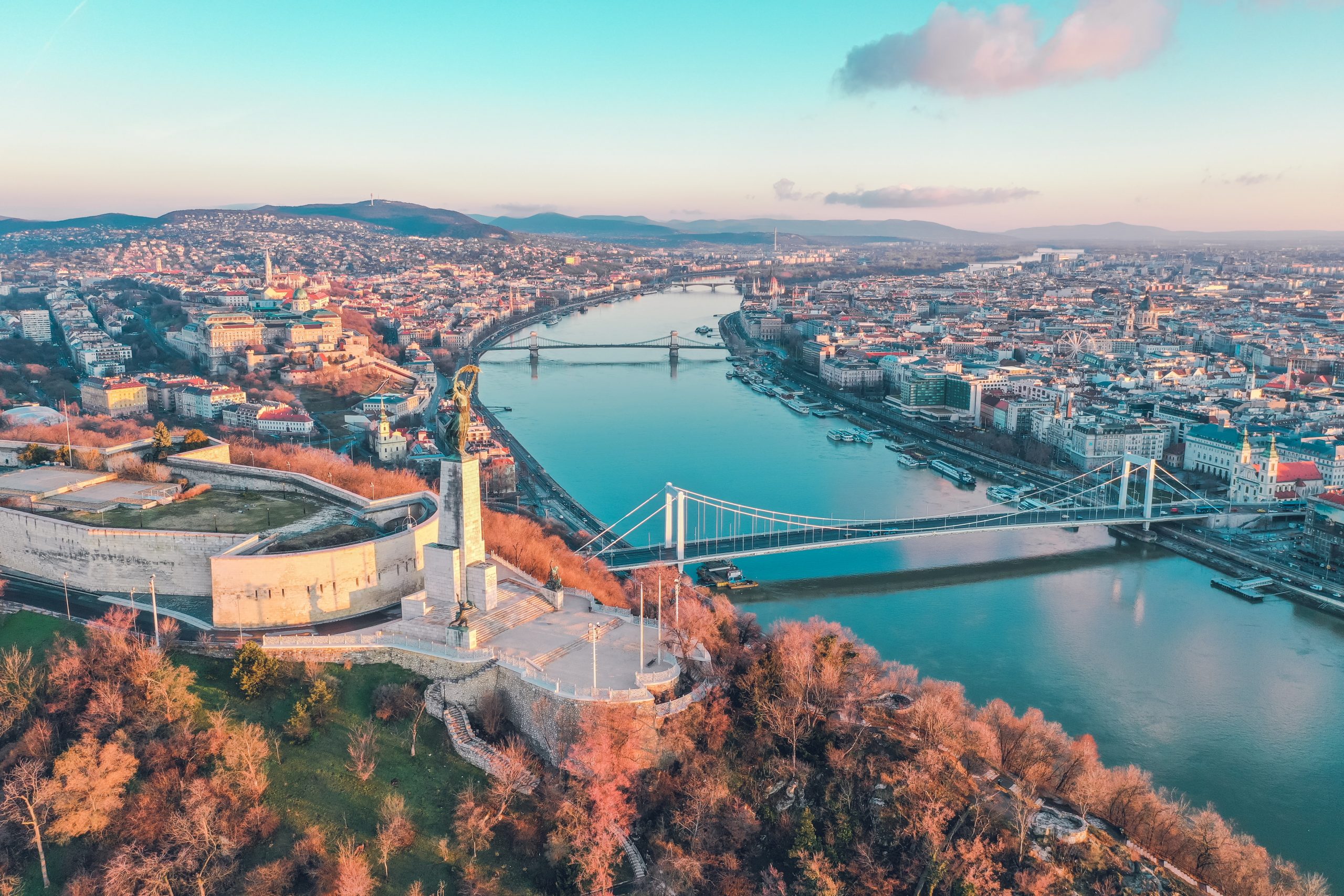 Fashion finds in Budapest 
Despite not being as big as Milan, London and Paris, the Hungarian fashion scene still has its own distinctive merits. From the annual Budapest Fashion Week to the collection of vintage boutique stores now up and running, here are some iconic fashion finds that the city of Budapest offers. 
Retrock 
If you're a sucker for vintage designer labels, then you have to pay a visit to Retrock. When you walk into the store, you'll be pleasantly surprised by just how spacious and meticulously laid out everything is. At Retrock, expect to find well-known, iconic brands such as Chanel, Armani and Levi's. It's every shopaholic's dream! 
Mono Fashion 
Want to see what Hungarian fashion is all about? Pay a visit to Mono Fashion – dubbed as 'a hub for Hungarian design'. From NUBU to Zsofi Hidasi, this store showcases pieces of clothing from local Hungarian designers and fashion labels. 
Látomás
When in Budapest, you're likely to come across Látomás while out and about in the city. With four stores dotted around the Hungarian capital, this boutique fashion brand offers a range of high-quality clothing for both men and women. The collections available at Látomás are constantly being refreshed and updated, so expect to find something that screams original when you browse around this store. 
Lollipop Factory Budapest 
Those who like to stand out from the crowd are likely to love what's offered at Lollipop Factory. This store boasts everything from street style to clothes that stray away from the traditional Hungarian concepts of fashion. If making a bold statement with your clothes is your thing, then be sure to visit this gem of a boutique store! 
Taking in those views
As mentioned, Budapest is a city that is filled with many glorious attractions. Whether you intend to take a dip in the famous Széchenyi thermal baths, or admire the late-Gothic architecture of Matthias Church, you'll want to make sure that you're properly taking in the sights of the city. 
Don't forget to pack a pair of prescription glasses for your trip to the Hungarian capital. Here at Arlo Wolf, we offer a range of men's and women's prescription glasses and sunglasses to help you look your very best while abroad.
If you can't decide what frames to purchase or want to make sure your future pair of glasses are going to suit your face shape, why not use our Try Before You Buy Service?
In the meantime, if you loved this Budapest travel and style guide, check out our other guides for Rome, Barcelona, Amsterdam, Berlin, Paris and Prague.