Berlin location guide
Once split by East and West Germany, still signified today by the final standing pieces of the Berlin Wall, the German capital offers many very different architectural styles. A short hop on the U-Bahn to Kreuzberg and you'll notice Mediterranean-like influences, while a stroll around Mitte offers a much more modern-industrial fusion.
There's no doubt Berlin has a lot to offer, so if you're making the short plane journey to the city you'll want to make a good first impression. Here are some of our must-visit places on your trip along with what outfits you'll need to pack all-year-round. Take a look!

A seasonal guide to Berlin's fashion
Berlin is a city of many climates. You'll find the summer months are often sunny and warm, while winters can get extremely cold. 
What to wear in Berlin in spring
Spring is one of the most beautiful times of the year in Berlin. The trees are blossoming and you can really appreciate the beautiful greenery the city has to offer. However, it's also possible to get caught up in spring showers, so you'll want to pack some waterproofs.
The key to spring in Berlin is to layer up. The start of the season can be pretty cold while the later months of spring can bring much more warmth. To fit right in with the locals, we'd recommend basics like t-shirts, jeans, boots, a jacket and perhaps a dress or two for the warmer days – just don't forget your umbrella.
What to wear in Berlin in summer
The summer months in Berlin are beautiful. You'll need some jackets for the evening, but you can very much get away with light summer items. You'll find the locals dress casual/smart – think summer dresses paired with trainers or cool and breezy smart trousers. Don't forget to take a pair of prescription sunglasses to see the sights with! 
What to wear in Berlin in autumn and winter 
Berlin starts to cool down again in the autumn months and can get very cold during winter – you might even get a bit of snow. As the weather is sometimes unpredictable, we'd recommend lots of knits, coats and warm layers. You'll find the locals wearing longline coats, smart trousers and stylish shoes to complete the look. A scarf is a bonus, too! If you're wondering what glasses to pair with your winter outfits, we'd recommend sleek black frames and crystal clear glasses from our women's prescription glasses range.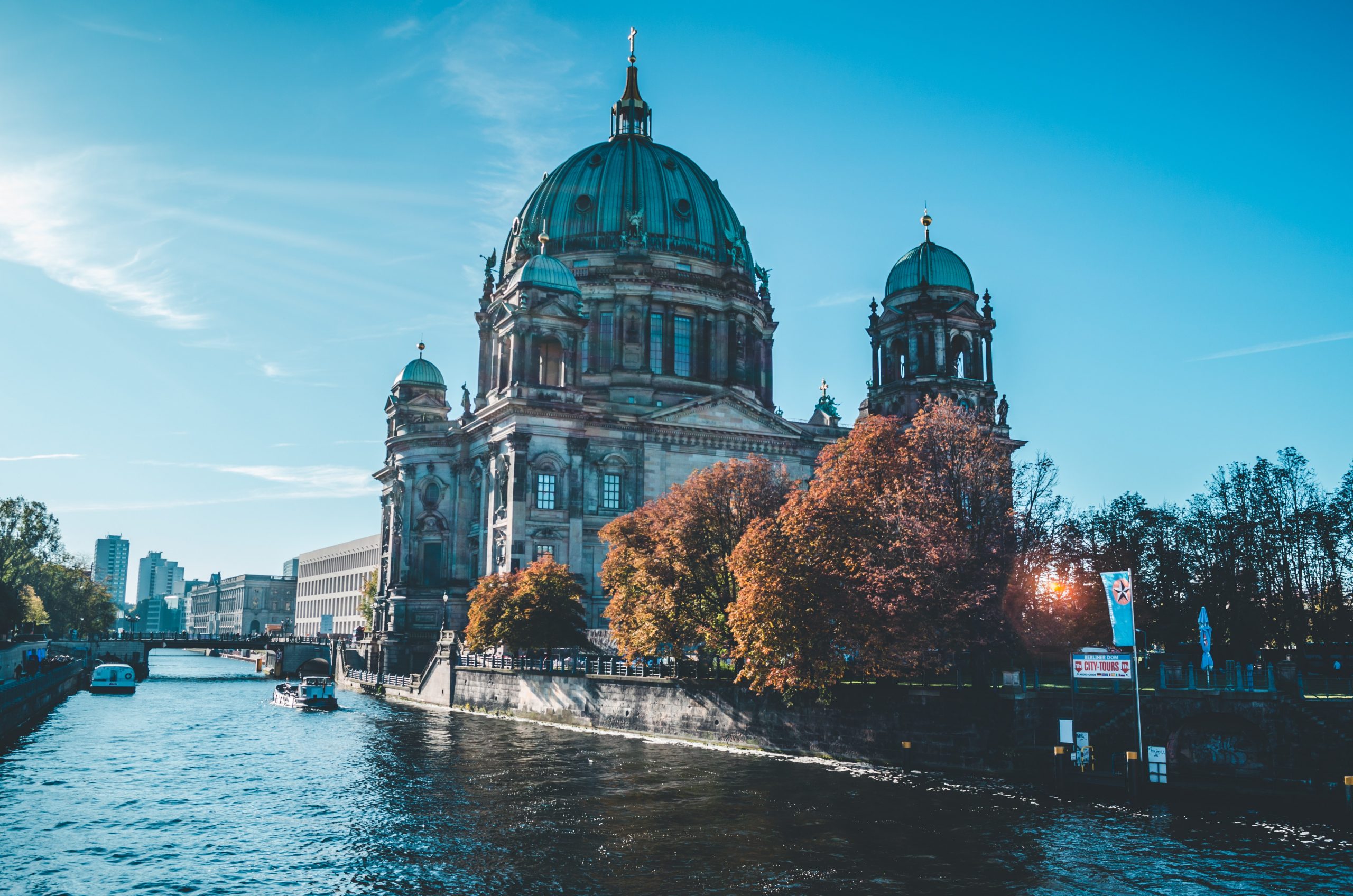 Berlin's must-visit fashion hotspots – shopping in Berlin
Now that you know the basics of what to wear in Berlin, you'll no doubt want to visit the city's fashion hotspots.
Berlin Fashion Week 
Berlin is renowned for its on-trend urban fashion which is showcased to the world during Berlin Fashion Week. Often taking part in July, you'll find some great inspiration in and around the event. 
Kurfürstendamm
Known locally as "Ku'damm", Kurfürstendamm is one of the most well-known shopping streets in Berlin. You'll find all of the designer stores here, including Armani and Chanel.
Bikini Berlin
If designer stores are a little out of your budget, we'd recommend a trip to Bikini Berlin – the home of pop-up shops. Featuring up and coming designers from the city and beyond, you'll be certain to grab yourself a fashion bargain here.
Top tip: from the top floor, you'll find a breathtaking view of the Berlin zoo! There's even a view of the monkey enclosure within the shopping mall.
Friedrichstrasse
If you're looking to sample some of Berlin's sights while shopping, a visit to Friedrichstrasse is a must. Located near the likes of Checkpoint Charlie and the Berlin Wall, you'll find plenty of shops to pop into, from independent retailers to larger German stores like Dussmann.
Seeing the sights
Don't forget to pack a pair of prescription glasses or sunglasses for your trip to Berlin. After all, the German capital has so many sights to offer – you'll want to make sure you can see them clearly! 
If you're looking for some new frames for your trip, we'd recommend our Harrison Gold or Atwood Black frames to fit right in with the Berlin locals. Both of these frames will compliment any street-style outfit. If you're not sure what glasses suit you best, why not try before you buy?