Renowned for its picturesque sights and exquisite architecture, the city of Florence certainly does have a lot of delights to offer. However, Florence isn't just about its galleries that showcase the most beautiful pieces of Renaissance art – the city also has a thriving fashion scene. 
That being said, you'll certainly want to dress to impress if you are heading to Florence. Have a read of our exclusive Florence style guide that details what to wear in the city seasonally, as well as the hidden fashion gems to look out for while exploring the regional capital. 
The Florence fashion scene 
Florence is a city with a long-standing history of fashion, boasting designers such as Gucci, Patrizia Peppe and Emilio Pucci. These brands have Florence-based fashion houses whose famous products are distributed all over the world. 
Going back in time, it has been said that Italian high fashion was born in Florence at a 1950's parade organised by pioneer of Italian fashion, Giovanni Battista Giorgini. Many international buyers were present at this event and offered much more competitive prices than they did with Paris fashion. 
Fast forward to the present day, Florence is now dubbed as the world's fifth fashion capital next to New York, Paris, London and Milan. The city is now surrounded by a collection of avant-garde boutiques, big-named clothing stores and artisan shoemakers. Oh, and not to mention, there is the annual Florence Fashion Week that welcomes chic and innovative forms of style. 
What to wear in Florence in spring 
Due to temperatures being on the milder side, springtime in Florence calls for lightweight jackets and comfy long-sleeve shirts. When it comes to dressing up for the evening, a midi skirt or a bright spring dress would be great options. Don't forget to pack your sunglasses for the spring season! 
What to wear in Florence in summer 
Temperatures do indeed soar as the summer months arrive in Florence. Wearing lightweight fabrics is the way to go. Why not rock the city streets in a floral day dress, or a bright top or blouse complemented by a nice pair of shorts? Whatever summer look you decide to go for, make sure you always wear your protective sunglasses while out and about in the Florence sun.
What to wear in Florence in autumn 
It has been said that autumn is the ideal time to visit Florence, particularly if sightseeing is your thing. Even though it is slightly chillier in the city around this season, you don't need to wear layers of clothing to keep warm. In fact, you can still get away with wearing a lightweight bomber or denim jacket. You can also perhaps opt for a trench coat, a thin turtleneck jumper and a cute bobble hat to compliment your overall look. 
What to wear in Florence in winter 
There is nothing like a refreshingly cold winter, and Florence is certainly no stranger to this as the frosty season arrives. Temperature-wise, it is not uncommon for some days in the city to be below freezing, but this is usually in the morning. It rarely snows in Florence, but when it does, the medieval city turns into a glorious winter wonderland. 
So, when travelling to Florence in winter, be sure to pack layers. We're talking a thick winter coat and plenty of woolly jumpers, as well as your usual hat, scarf and gloves set. In terms of shoes, be sure to pack a sturdy pair of boots – you might want to pass on the high heels when you're exploring Florence in the cold!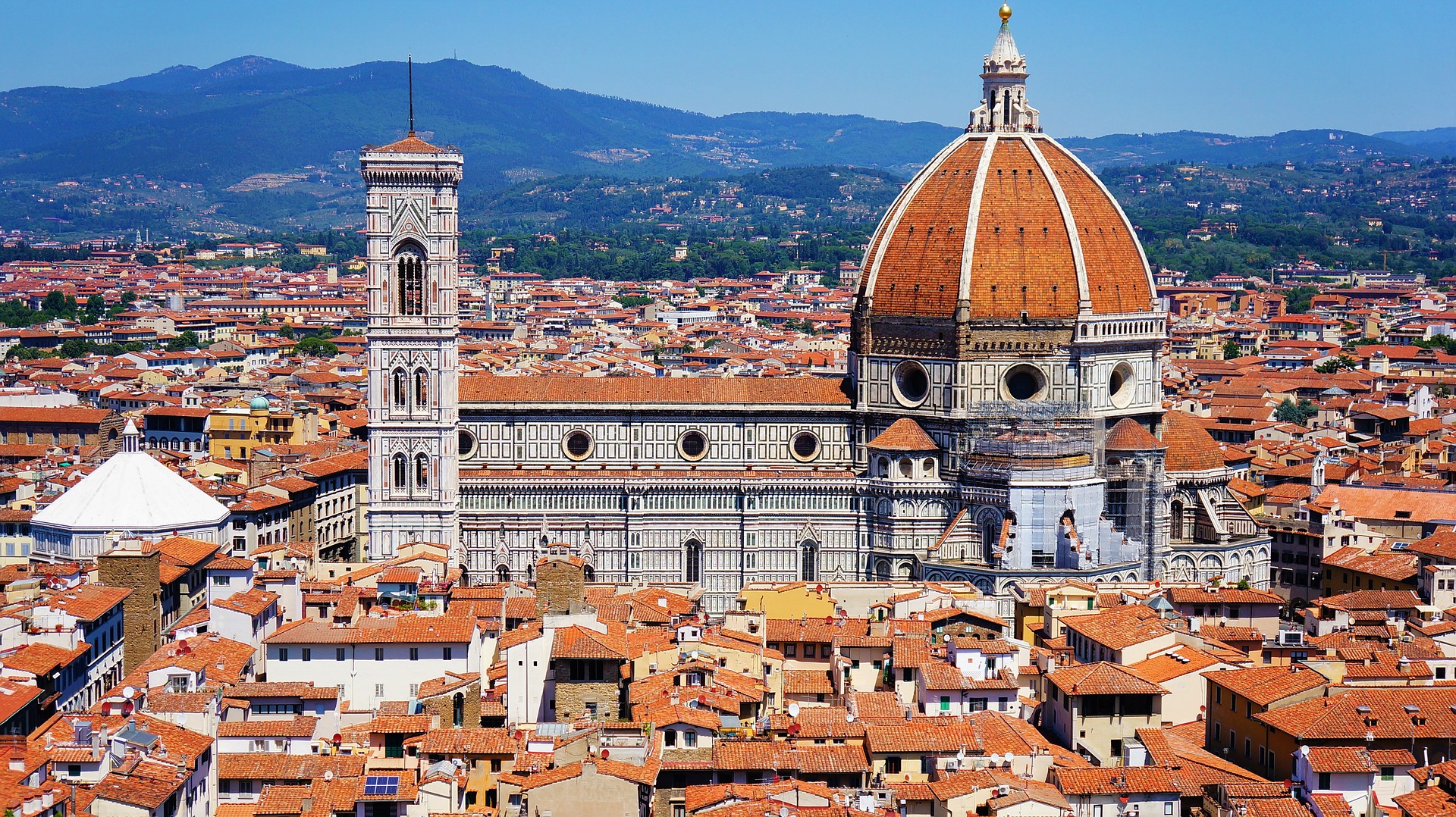 Fashion finds in Florence 
Melrose and Boutique Nadine 
Whatever your fashion tastes are, Florence offers something for everyone. If you're a lover of all things vintage, be sure to pay a visit to Melrose or Boutique Nadine. If you're after that grungy American vintage style, the pieces offered by Melrose are guaranteed to please. If you have more of a preference for classic vintage clothes, Boutique Nadine should certainly be your go-to store. 
Via Tornabuoni 
If you're looking to splash the cash and treat yourself while in Florence, Via Tornabuoni is the place to go. When you walk up Via Tornabuoni, you are practically taking a trip up designer lane. On this famous street, you'll find the stores of many luxurious brands, including Prada, Alexander McQueen and Balenciaga. 
Piazza Santo Spirito and Mercato Sant'Ambrogio 
When it comes to finding some great fashion bargains, you can always trust a good clothes stall at a local market. In Florence, Piazza Santo Spirito and Mercato Sant'Ambrogio offer some fantastic finds. Piazza Santo Spirito hosts has a regular morning farmer's market, as well as a vintage market the second weekend of each month. As for the Sant'Ambrogio market, this is held every morning (except on Sunday), and here you'll find everything from fun household items to fashionable vintage pieces. 
Seeing the sights 
Whether you intend to climb the challenging stairs of the Duomo Cathedral, go on a cultural shopping spree or sample the delicious Italian gelato, you'll want to make sure that you're properly taking in the sights of Florence. 
Don't forget to pack a pair of prescription glasses for your trip. At Arlo Wolf, we offer a range of men's and women's prescription glasses to help you look very best while abroad. Unsure of what frames to purchase? Simply use our Try Before You Buy service. 
When summer sun lights up the cobbled streets of Florence, make sure that you're wearing a protective pair of prescription sunglasses. Packing a pair of shades for the winter season also wouldn't be a bad idea!
Plan to venture elsewhere in the world? Check out our style guides for Rome, Barcelona, Amsterdam, Berlin, Paris and Prague.