What to wear in Venice
Located in the North East of Italy on the Venetian Lagoon, Venice is home to 118 islands in total. The city is renowned for its picturesque canals, Gothic architecture, beautiful artwork and, of course, its true Venetian charm. If you're heading to the floating city, you'll absolutely need to know what to wear – and when.
Like most of Italy, Venice boasts a warm climate most of the year-round, with temperatures cooling down in November and rainfall increasing over the winter months. In this guide, we'll help you discover what to wear in Venice (whatever the weather) and where to shop for a true Italian shopping experience.
The Venice fashion scene
Like many other major Italian cities, Venetians are renowned for their sense of style. Venetian style can be described as opulent, colourful and elegant. During the spring and summer months, in particular, floral patterns really add to the romantic charm of the city. The city even has its own fashion week usually taking place in October.
Where to shop in Venice
Planning a spot of retail therapy on your trip to Venice? You'll be pleased to know there is an abundance of shopping boutiques to explore. The high street scene in Venice is also a must-visit! You'll find many different shops than you would on a UK high street. Here are our 3 top picks for boutique and big brand shopping.
Kiriku
Best for: Boutique Italian fashion
In the heart of the San Macro district is Kiriku, a chic boutique offering a real taste of modern Venetian fashion for women and kids.
Aldo Strasse
Best for: Finding a bargain
Fancy a bit of thrift shopping in Venice? Aldo Strasse has been around since the 70s, offering great-quality vintage clothing from across Italy.
T Fondaco dei Tedeschi
Best for: Big brands and even bigger views
T Fondaco dei Tedeschi shopping centre is ideally located just next to Rialto Bridge in the centre of Venice and has hundreds of brands to choose from. But that's not the best part. The building alone is a stunning architectural development and there's even a roof terrace that offers stunning panoramic views over the city!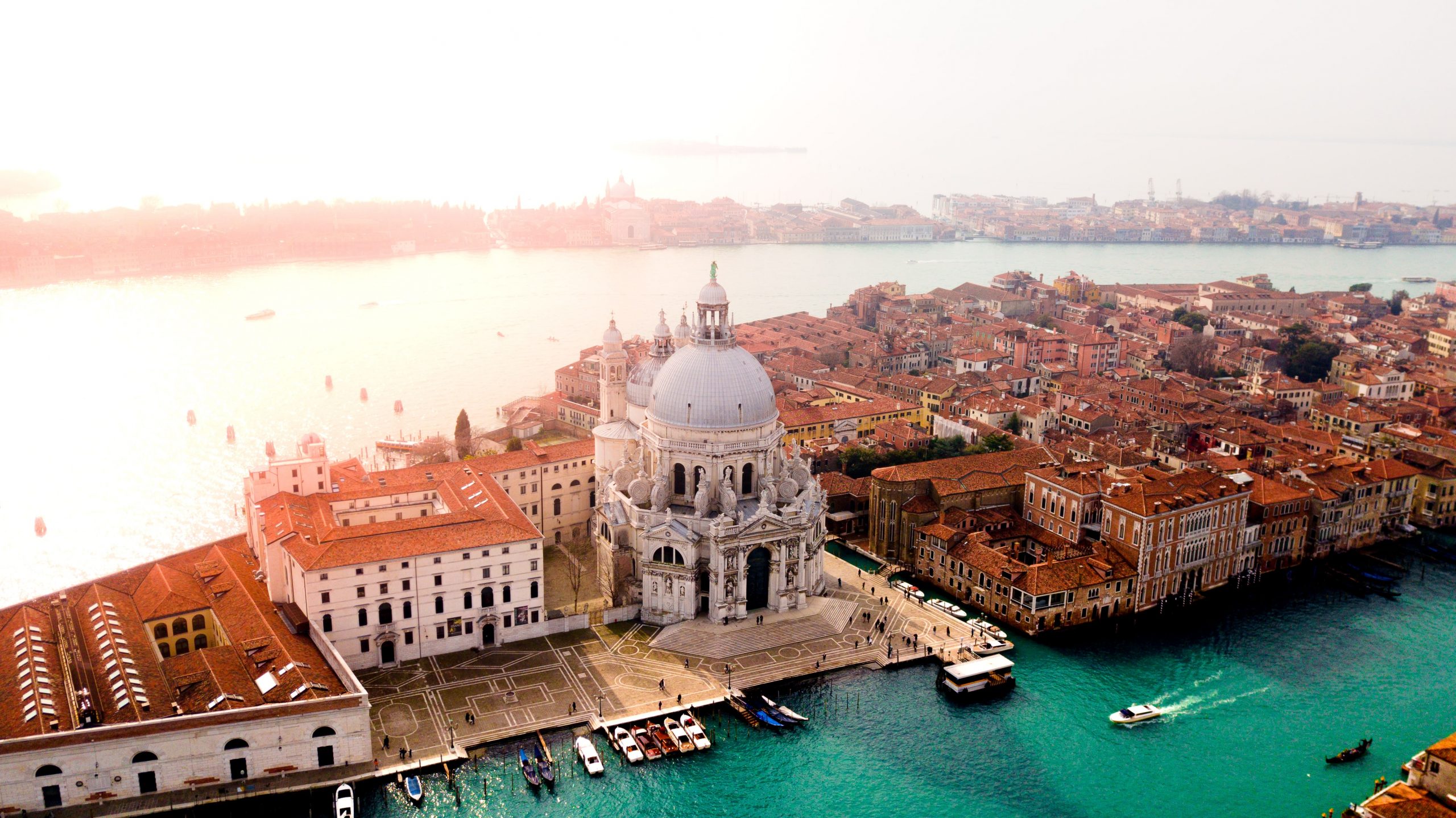 What to wear throughout the year
From March to October, Venice offers a very comfortable climate with temperatures reaching 22 degrees in spring and up to 28 degrees in summer. Even when the cooler months of autumn come around, you can expect average high temperatures between 18-24 degrees. 
Wondering what you should pack for your trip? When it comes to style in Venice, you'll absolutely be comfortable with lighter layers in these months. In spring and summer, it's all about the floral patterns and lightweight dresses.
What to wear in Venice in November. December and January
As the winter months draw in, the chances of rainfall in Venice are much higher so don't forget to pack a waterproof! Temperatures in November average around highs of 12 degrees and lows of 5 degrees, while January brings about the coldest weather with temperatures known to reach 0 degrees overnight.
Temperatures are comfortable during the day, especially when the sun is shining, but the evenings in Venice are much cooler (particularly with the Mediterranean breeze). With this in mind, you'll need to pack a few layers to keep you warm throughout your trip in late autumn and winter. During these months, the locals can be wearing much more neutral colours than the warmer months. Think wool jumpers and trendy trench coats. You'll fit right in with a pair of jeans, a simple, neutral jumper and a classic layer to complete the outfit.
Top tip: Venice is home to many cobblestone streets, so leave the heels at home and pack a trendy pair of trainers or boots instead.
Accessorise like a true Venetian
The Italians are renowned for their ability to accessorise, from luxurious watches to sunglasses and hats. Whatever the season, they'll often be seen sporting a trendy pair of sunglasses. With over 200 days of sunshine a year, don't forget to pack yours!
Why not grab a pair of our prescription sunglasses to really help you see the sights on your trip? All of our sunglasses come with UV400 prescription lenses as standard, and we've got a ton of styles to choose from. You can even try before you buy with our home try-on glasses. Just choose 4 pairs of glasses or sunglasses you'd like to try on at home and we'll send them straight to your door – for free!
Check out some of our other style guides: