Sunglasses for weddings
With summer in full swing (although it may not feel like it), many people are starting to browse their sunglasses collections to find the perfect pair to match their outfits. The nice weather also means more outside weddings are also taking place – and sunglasses are a must. But, how do you wear sunglasses to a wedding?
At Arlo Wolf, our wedding sunglasses guide will help to solve your sunglasses-related woes when choosing your outfit – and help you to stay on trend with your choice of eyewear and wedding sunglasses ideas.
Wedding guests
If you're a wedding guest, you'll be delighted to know the choice is yours when it comes to wearing sunglasses at a wedding! Choosing the right pair of sunglasses is important, as they can have an impact on the style of your attire, but you've certainly got a little more leeway than the soon to be newlyweds. 
The colours you wear are the deciding factor on which sunglasses to choose. Light and neutral coloured frames are a great addition to pastel or light colours like blue, green or beige/white. Anything ranging from Chase Sun in Gold or Brooklyn Sun in Gold/Grey, to Chase Sun in Black are great options for this colour spectrum. Chase Sun is also a great choice for darker-coloured outfits, as is Evan Sun in Black.
Bride/Groom
It's a little harder to find sunglasses that won't look too striking against a white wedding dress, so opt for more muted colours, such as gold or silver. For grooms who wear black or grey suits, a variety of classic black sunglasses would fit with your suit. For brides, most styles of sunglasses would look incredible on your wedding day, but Brooklyn Sun with Gold Grey Lenses or Brooklyn Sun in Silver would be your best bet. Due to their neutrality and elegance, they'll pair gorgeously with any wedding dress.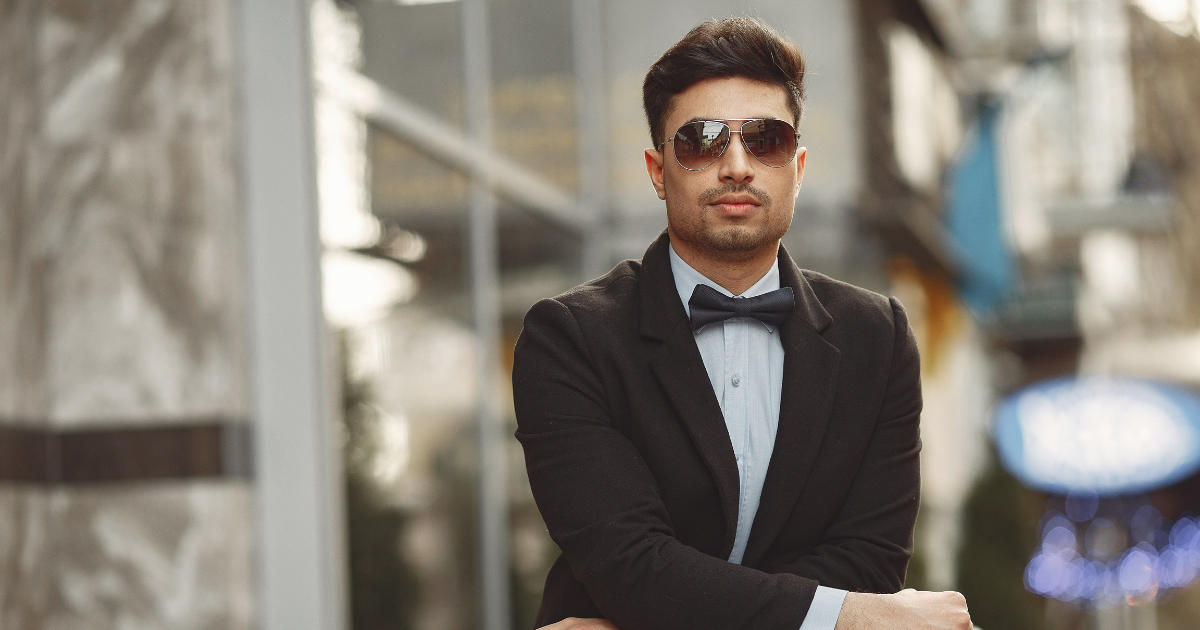 Wedding sunglasses do's and don'ts
DO: Coordinate 
If your aim is to make your wedding sunglasses the centrepiece of your outfit, then opt for thick black frames and dark lenses, like Axel Sun in Black. However, colour coordinating your sunglasses with your outfit is a way to make your sunglasses blend in with your outfit and not be too out of place.
Try to match your sunglasses to the colour of your outfit or suit/tie by sticking to lighter frames or lenses and more neutral colours. A black or grey suit with Brooklyn Sun in Silver or Chase Sun in Black is a great combination.
DON'T: Go overboard
Opting for crazy-looking sunglasses with patterned frames or coloured lenses can draw a lot of attention to you, and may clash with a floral or patterned dress. In this case, sunglasses like Hayden Sun in Purple and Hawke/ Black Green Mirror probably aren't your best bet – although they are flawless on a summer's day.
When it comes to your wedding, it's all about keeping it understated. Try neutral greys or soft black frames, or try sunglasses in our tortoise collection for a stylish and alternative look that's still understated, depending on the frames or lenses you choose.
DO: Stick to the dress code
There might be a specific dress code for the wedding you're attending, therefore you'll need specific sunglasses to match. If the dress code is more on the lowkey/informal side, sunglasses that are on the more casual side would suffice, such as Chase Sun in Gold. However, for more formal and extravagant weddings, opt for the classic black sunglasses as they will fit any theme or dress code. Try Kristy Sun in Black. 
DON'T: Rely on the weather
The weather can be pretty unpredictable, so even if it's forecast to rain, you're still going to want a pair of sunnies you can protect your eyes with – just in case the sun suddenly comes out for those wedding photographs!
Find your next pair of sunglasses at Arlo Wolf
At Arlo Wolf, we've got you covered for any occasion with our vast collection of eyewear. Browse our sunglasses for men and our sunglasses for women. 
If you're unsure about sunglasses styles and what might suit you best, check out our helpful try before you buy service. No matter the occasion, we're here to help you look great in a stylish, yet affordable, pair of sunglasses – whatever the season.