Like a lot of things in fashion, the best looks are often those which take the smallest amount of effort. Even if that weren't the case and the look came about through deliberate and pre-planned styling, it's that 'effortless' vibe that we all try to pull off. When you think about it, it's one of life's great contradictions, no?
Effortless style can be largely attributed to our eyewear. The right pair of glasses can really finish off an outfit. It's the cherry on the top, the missing piece of the puzzle, the final flourish. Whatever analogy you want to use, it's an easy way to make your outfit look better and, as a result, make you look better. 
With all that in mind, here's our men's glasses style guide. Here we run through some of the favourite men's eyewear pieces and recommend some outfit ideas to go with them. 
Men's optical glasses guide
Taking a look at our men's optical range, we've picked out a few customer favourites as well as some of the perhaps lesser-known models. 
Brook / Tortoise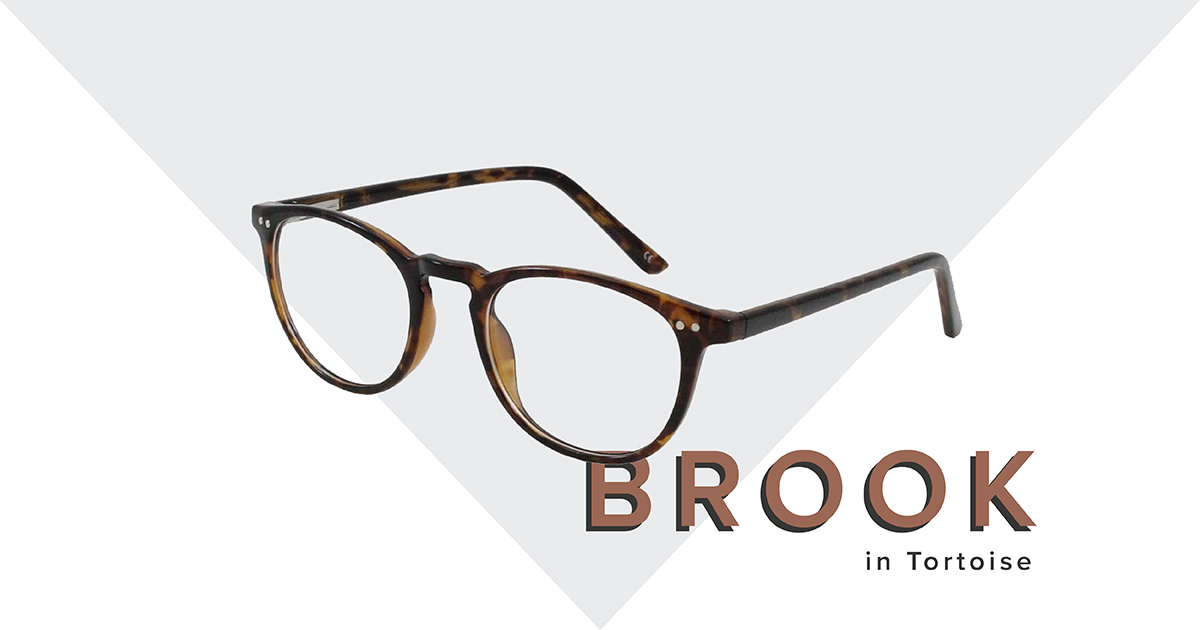 With tortoiseshell frames, you've got a really versatile colour that will go with most outfits. They have that hipster edgy appeal but they'll also go well with smarter outfits. You can pair them with jeans and a white tee for a classic get-up or let your pair of Brooks take the lead with a smarter outfit for the office. 
Brook and your face shape
The Brook frames complement those with square face shapes. If you belong to this group and have been blessed with a strong jawline, we'd recommend the Brook / Tortoise. 
Quinn / Crystal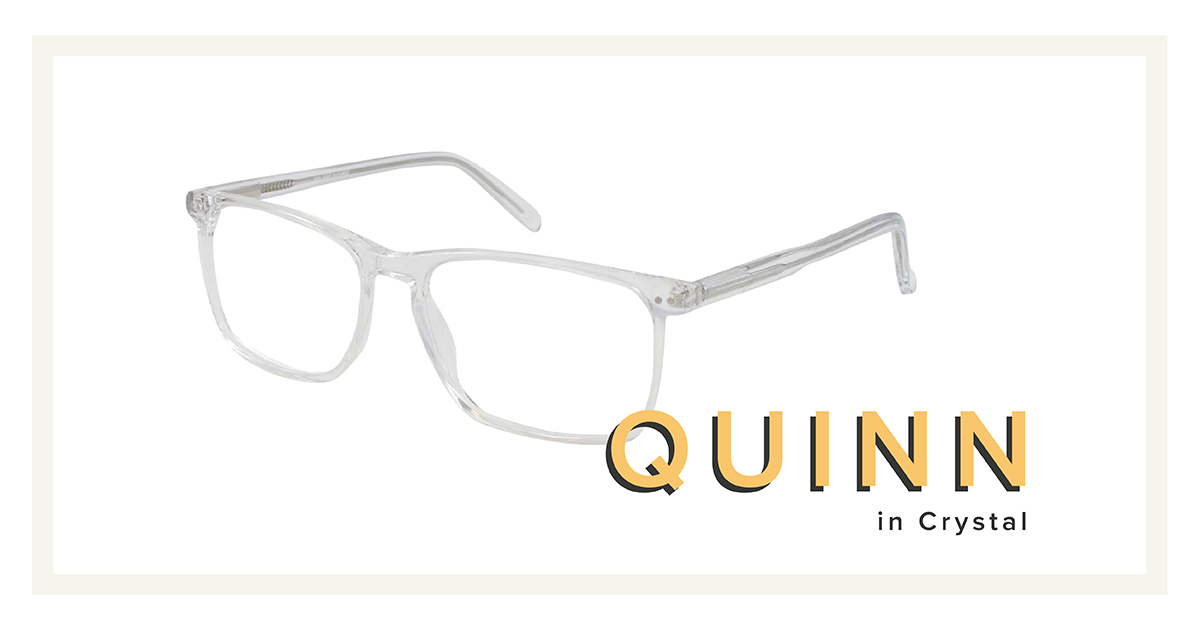 Transparent frames are the marmite of the eyewear industry. You either love them or… well, you get the idea. We love them, especially these Quinn / Crystal frames which blend retro and modern stylings to give you the best of both worlds. 
Clothing-wise, if you want to accentuate your clear frames then you should wear natural colours. The thinking behind this is all related to visual perception. Lighter hues will make other lighter hues 'pop', your clear frames included. However, if you want the Quinn / Crystal to be the absolute centrepoint of your outfit then you should wear darker colours to let the clear frames take the lead. 
Quinn and your face shape
The Quinn range is best suited for those with round face shapes and you'll find that all other kinds of frames with angular shapes and sharp lines will suit you just as well. 
Laing / Black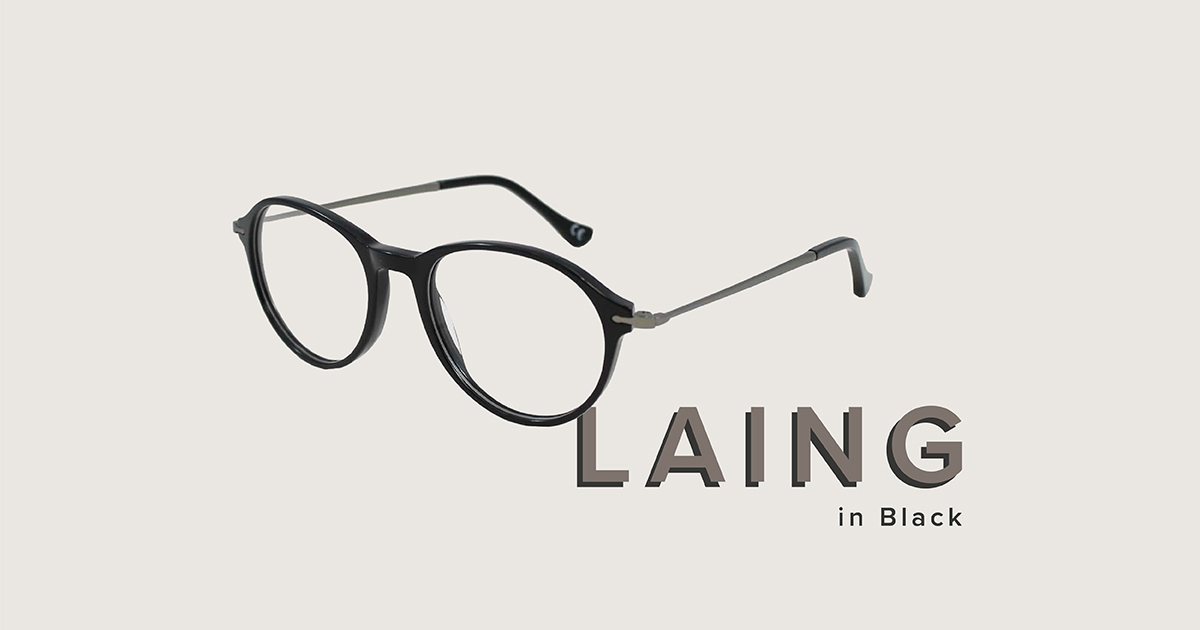 Between the metal temples, round lenses, and classic shape, these frames have a bookish appeal that suits hipsters and intellectuals alike. They're an iconic shape, inspired in part by the Woody Allen style (a New York intellectual with a taste for smart-casual) and simple, straightforward modernism.
Black frames like the Laing range are an excellent choice if you're dressing up. Whether you're heading to the office or you have evening plans, a pair of black glasses are the perfect accompaniment to a smart (bordering on casual) outfit.
Laing and your face shape
The Laing range is a good frame for those with more rectangular-shaped faces. If your face has strong, defined angles then you will suit the Laing / Black.
Knox / Black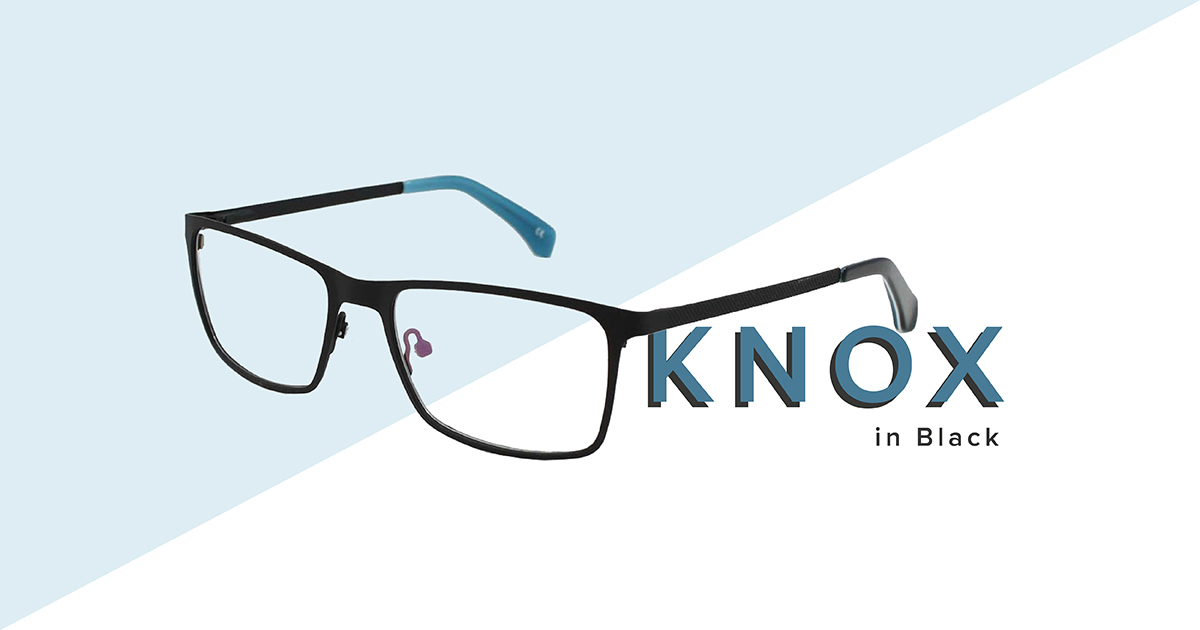 This sleek and modern looking pair of glasses is the Knox / Black. With textured detailing on the temples and a soft touch coating, the frames have that sophisticated look that will complete most outfits. The best thing about these frames is that brilliant streak of blue on the arms!
Outfit-wise, their shape is nice and simple so we'd say a casual oxford shirt in a colour of your choice, some classic sandy-coloured chinos and a pair of your whitest pumps should do the trick. You could go from the office to the pub and nobody would bat an eyelid. 
Knox and your face shape
Given their straight-along horizontal shape, we recommend the Knox / Black for those with oval-shaped faces. 
Rowan / Tortoise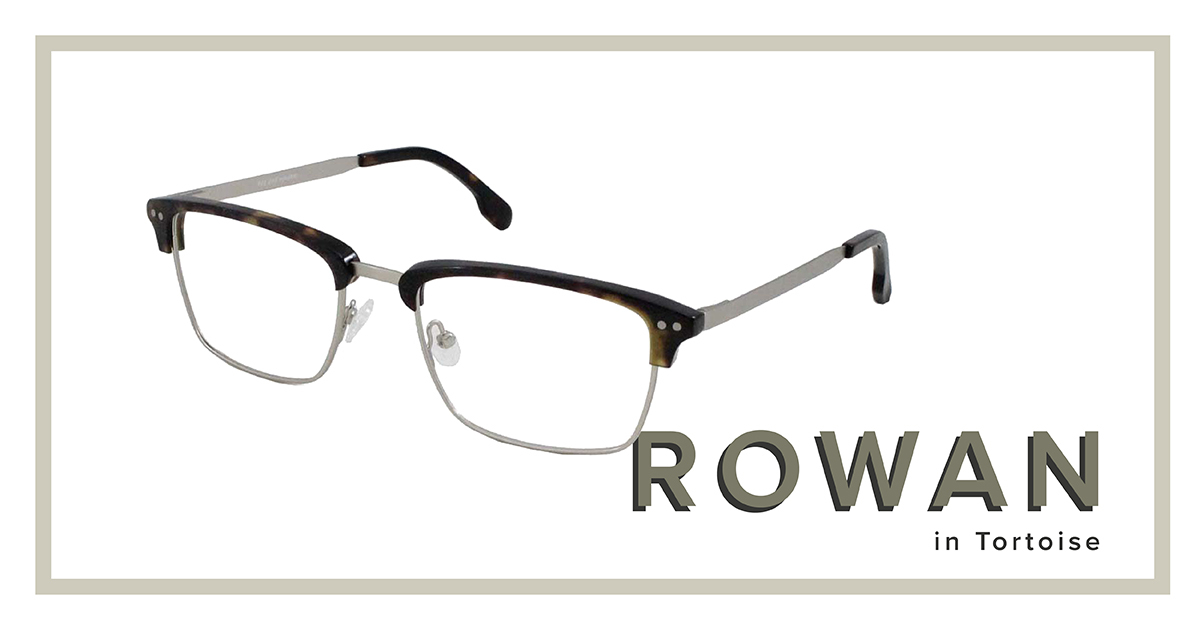 Inspired by the timeless Clubmaster design, the Rowan / Tortoise have that great masculine shape to them, harking back to the stylings of Hollywood star, James Dean. It has some great details, like the shiny metallic arms and a textured finish on the rim.
For a classic look, pair with chunky navy knitwear, rugged denim and whiter-than-white trainers (we like white trainers, okay?!). 
Rowan and your face shape
Given the uniform shape and classic feel, heart-shaped faces will go well with the Rowan / Tortoise.
Our men's sunglasses style guide
Now, it's time to turn the sun on (if only it were that easy). Here are the best picks from our men's sunglasses range. 
Greyson Sun / Grey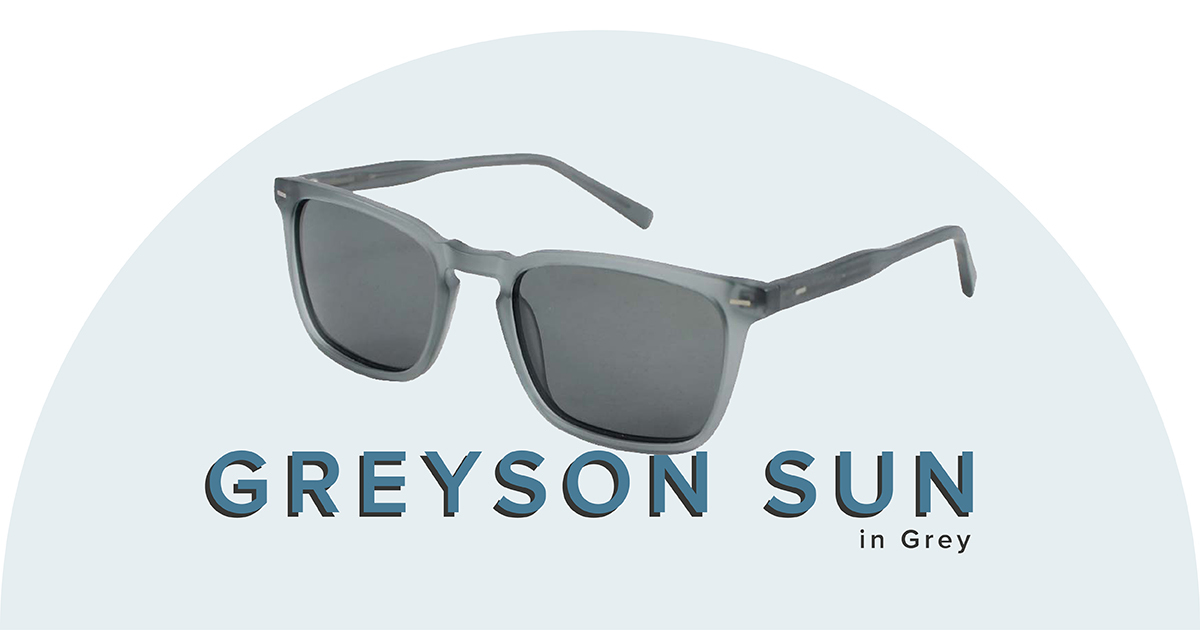 Between the clean lines, the matte grey finish, and the sturdy construction, the Greyson Sun / Grey is an instant minimalist classic. While these frames might not be as popular among the traditionalists, that's okay. For such a simple design, wearing these frames is a bold statement so we'd recommend a simple outfit to let the frames lead the way. How about a nice denim shirt, dark (navy/black/grey will do) chinos and some casual footwear. 
Greyson Sun and your face shape
We would recommend the Greyson Sun / Grey for those with heart-shaped faces.
Cyrus / Gold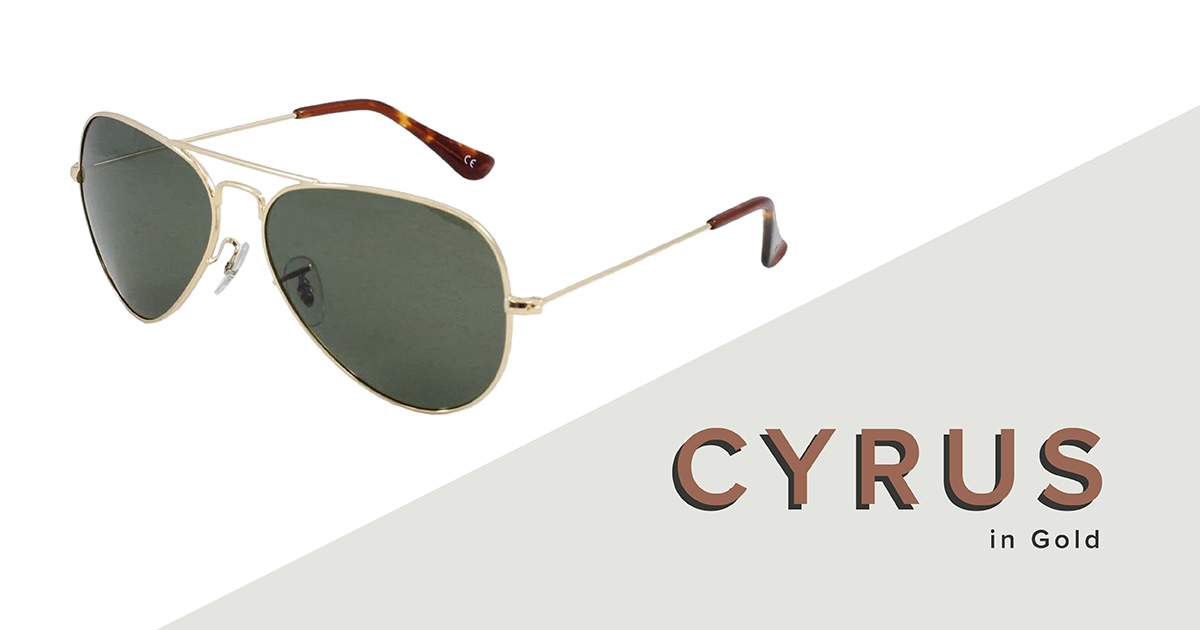 Just when you thought the perfect pair of holiday shades didn't exist, Cyrus / Gold came along. With their aviator shape, gold frames, and tortoiseshell arms, we've a real showstopper on our hands here. Best paired with the most colourful tropical shirt you can find, a comfortable pair of holiday shorts, and some flip-flops (or, if you're that way inclined, a pair of white trainers).
Cyrus and your face shape
Round or oval shaped faces are best suited to the Cyrus / Gold.
Axel Sun / Tortoise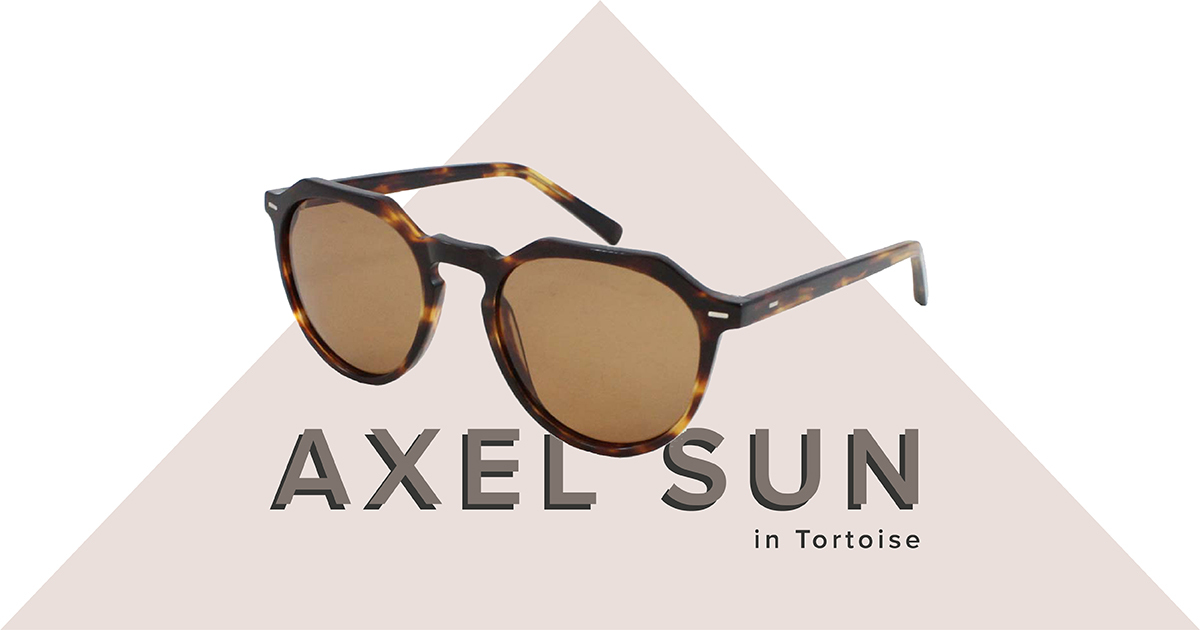 The Axel Sun / Tortoise is a really unique pair of sunglasses, combined with the classic, timeless tortoiseshell colouring. When you're wearing the Axen Sun / Tortoise, you've got all the outfit options because they're just so versatile. Smart or casual, the choice is yours. Enjoy!
Axel Sun and your face shape
The Axel Sun / Tortoise will go with pretty much any face shape (they really are the ultimate pair of sunglasses). 
Reign Sun / Black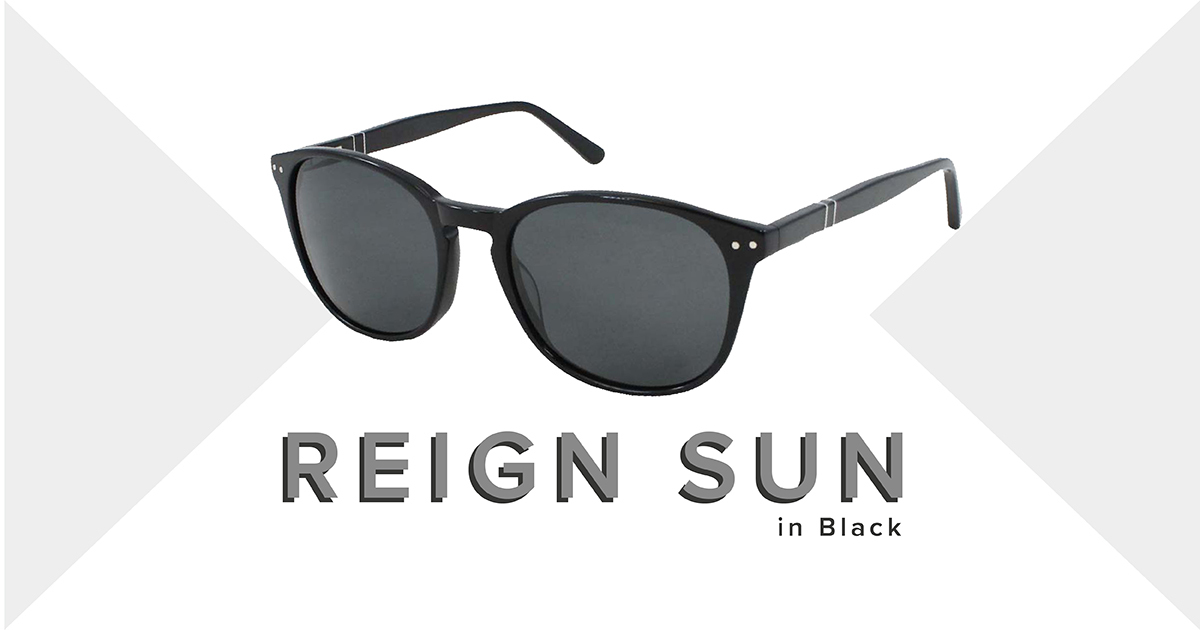 With those two thin stripes on either arm and the iconic 1950s silhouette, the Reign Sun / Black is a definite customer favourite and you can see why. When it comes to your wardrobe, your options are limitless because they're so versatile, just like the Axel frames. You could pair them with a cool checked shirt, your favourite pair of jeans and footwear of your choice. They're easy but they look great every time. 
Reign Sun with your face shape
With sunglasses like the Reign Sun / Black, those with rectangular shaped faces will suit them best (although their shape is so classic that they'll still look good for everyone else). 
Brooklyn Sun / Pewter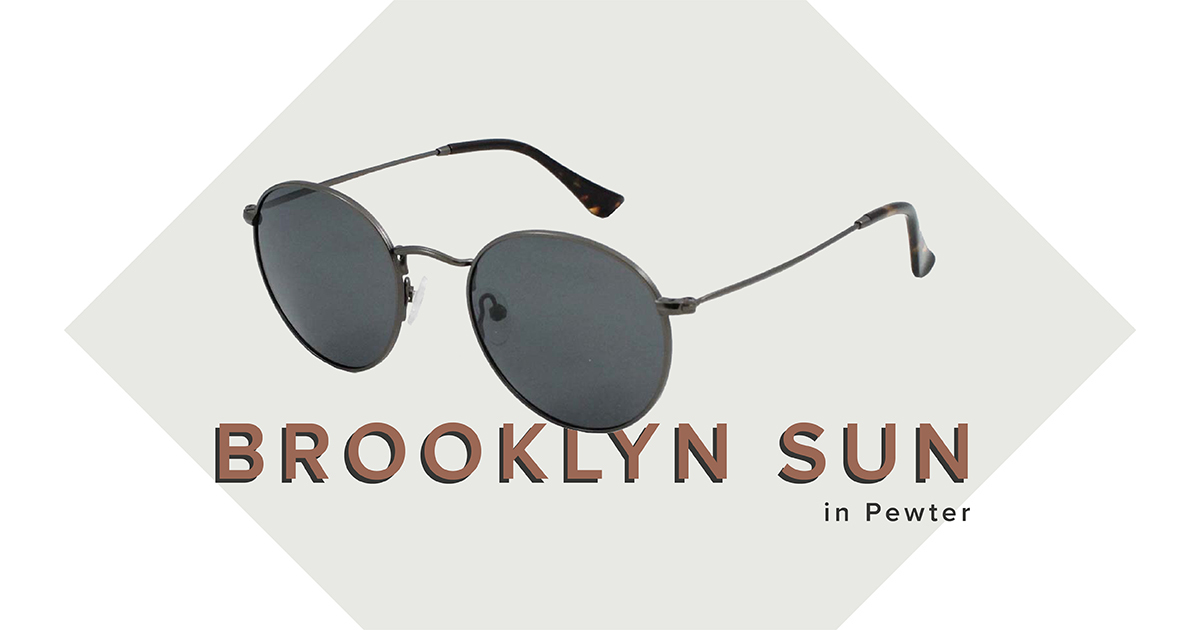 We're big fans of the round shape! The Brooklyn Sun / Pewter has that special Miami Vice shape to them but with a darker and more futuristic look to the lenses. Not forgetting those gorgeous tortoiseshell tips, too! When you're dressing up, you have two options: go dark and mirror the glasses with muted colours like dark greys and different shades of black, or go in the completely opposite direction and opt for bold colourful prints. It's your choice, either outfit will play off the sunglasses in really interesting ways. 
Brooklyn Sun and your face shape
When it comes to aviator-style frames like the Brooklyn Sun / Pewter, you'll find them especially suited to anyone with round or oval shaped faces.
Choose the perfect pair of frames for you
With our Try Before You Buy glasses service, you can try on up to four pairs of frames without committing to payment. We simply send you the frames, you try them on from the comfort of your own home, then send them back (free of charge) with confirmation of your order. All COVID-19 hygiene measures are upheld, so there's no need to worry about that.
To help you decide, you should also take a look at our face shapes guide. If you need any more information, stay tuned to our regularly updated blog section.