Dior style glasses
Christian Dior has long been a staple name in the world of premium designers, offering luxurious clothing, beautiful handbags and stylish eyewear. Dior is well-known for delivering sheer sophistication in every aspect of their fashion range.
Dior's range of prescription frames is different from what other labels are offering. They're known for their modern look with a slight vintage spin on them – the best of both blended into one unique style – and it's this that makes their prescription glasses so popular.
If you're looking for Dior style glasses to add a sophisticated addition to your everyday style, find out more about a couple of Arlo Wolf frames that will help you to achieve the classic Dior look.
Dior Homme Black Tie Glasses
The Dior Homme range of frames provides various different styles, each of which are intended to offer a premium addition to any of your looks, from your casual day to day outfits to your dressed up evening attire.
Here at Arlo Wolf, we especially love the look of the Dior Homme Black Tie glasses, the 238 style in particular. Consisting of a strong and sturdy frame in a soft round style, they're the perfect mix of old and new, adding a lovely touch of vintage that's perfect for any style.  
Affordable Dior Homme Black Tie 238 Glasses
If you're looking for prescription frames that look similar to the Dior Homme Black Tie 238 glasses, take a look at the Brady range available here at Arlo Wolf. They share the same soft round shape as the Dior frames, but also come with stunning marble effect tips too!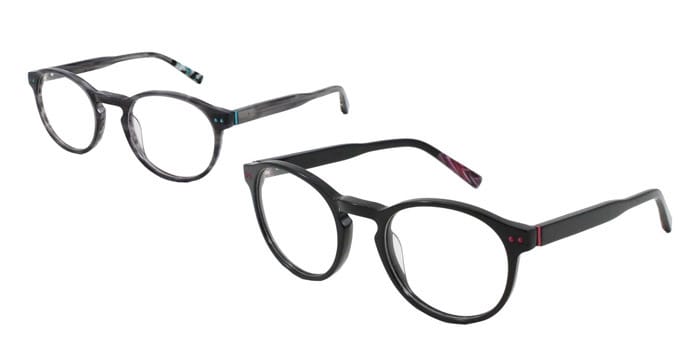 At just £65 each, you'll be able to enjoy your Dior style glasses complete with prescription lenses, an anti-glare and anti-scratch lens coating, a 12-month warranty, plus a protective case and lens cloth.
The Brady frames are available in black and grey and are unisex, so they are designed to suit both men and women!
Top Tip: The quirky, round shape of the Brady glasses is ideal for a number of face shapes, including square, rectangular, oval and heart-shaped faces. Alternatively, find the best glasses for your face shape with our handy tool.
Dior Montaigne 33 Glasses
Women from across the globe love the Dior Montaigne 33 glasses because of their fantastically feminine style. These classic cat-eye style frames feature a solid black front contrasting with a bright white back, offering a unique look from any angle.
We understand just how popular these Dior style glasses are. They're quirky yet sophisticated, feminine and elegant and they're bound to create a fabulous focal point for any outfit.
Alternative Dior Montaigne 33 Glasses
If you're a fan of the Dior Montaigne 33 frames, you're going to love what we have available here at Arlo Wolf. Our Jade range has the same look at the Dior style glasses, but with even more of a pop to them. Black contrasts with hot pink, burgundy is paired with a rust orange, and blue works superbly with a vintage yellow. Add a standout accessory to your everyday style with one of the gorgeous frames from our Jade collection.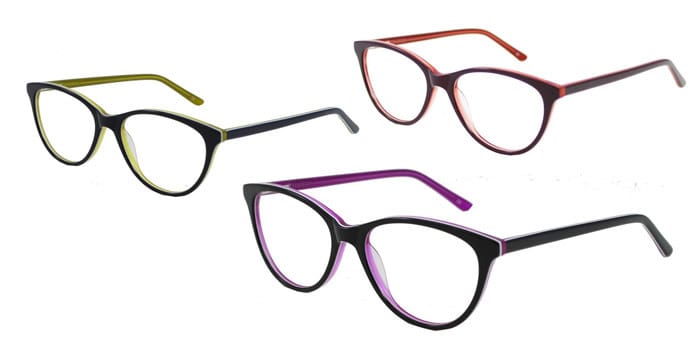 If you can't decide between these three stunning frames, why not make use of our multi-purchase discount? One pair will cost you £65, but can buy two frames for £115 or three frames for £150!
The unique shape of the Dior Montaigne 33 glasses and the Arlo Wolf Jade prescription frames are perfect for anyone with a square or oval shaped face.
Whether you're looking for a more affordable version of Dior style glasses, or whether you like the style but fancy something a little different to the originals, our range of prescription glasses can give you just what you need. Whilst you're here, take some time to peruse our selection women's prescription glasses and men's prescription glasses to find the perfect frames for you.