First things first. We love Manchester. It's our home. But…..Manchester in the Sun is another level!
After what feels like the longest Winter ever we finally had our first weekend of glorious sunshine! Don't believe me? Here is the proof!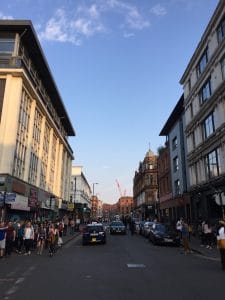 In celebration, we decided to spend our Saturday in the sun-drenched Northern Quarter. As it was Record Shop day, the atmosphere was amazing with a wide ranging selection of music blaring across Stephenson Square long into the night which gave a real party atmosphere!
I must confess we did venture inside on one occasion, but when the pizza of Honest Crust in Mackie Mayor comes calling it's very hard not to give in!